AGST Module 6 invited Professor Siao-chen Hu to give lectures titled "Topics in Chinese Narrative Literature of the Late Imperial Period" from August 3 to 6, 2015.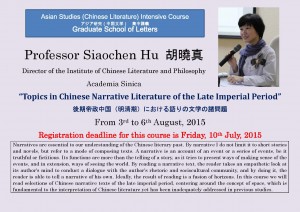 [Outline and Purpose of the Course]
Narratives are essential to our understanding of the Chinese literary past. By narrative I do not limit it to short stories and novels, but refer to a mode of composing texts. A narrative is an account of an event or a series of events, be it truthful or fictitious. Its functions are more than the telling of a story, as it tries to present ways of making sense of the events, and in extension, ways of seeing the world. By reading a narrative text, the reader takes an empathetic look at its author's mind to conduct a dialogue with the author's rhetoric and sociocultural community, and by doing it, the reader is able to tell a narrative of his own. Ideally, the result of reading is a fusion of horizons. In this course we will read selections of Chinese narrative texts of the late imperial period, centering around the concept of space, which is fundamental to the interpretation of Chinese literature yet has been inadequately addressed in previous studies.
[Lecturer]
Prof. Siao-chen Hu
Research Fellow & Director of the Institute of Chinese Literature and Philosophy
Academia Sinica
[Schedule]
(1) Aug 3, 10:30-12:00
(2) Aug 3, 13:00-14:30
(3) Aug 4, 10:30-12:00
(4) Aug 4, 13:00-14:30
(5) Aug 5, 10:30-12:00
(6) Aug 5, 13:00-14:30
(7) Aug 6, 10:30-12:00
(8) Aug 6, 13:00-14:30
[Venue]
Sogo-Kenkyu-kan 2, Enshu 10
[Lecture Title]
Topics in Chinese Narrative Literature of the Late Imperial Period
[Program]
I. Absence and Presence of the Cityscape
    1. Hangzhou Narratives
    2. "Old Capital" Complex
    3. Lost Cities Shall Not Be Forgotten
II. Borderlands: The Site of Conflicting Values
    4. Romance of Heroes and Heroines
    5. Humble Words of a Rustic Old Man
    6. History of the Myriad of Creatures
III. Zhi: Construction by Collection
    7. Narrating the Far and Foreign
    8. Narrating the Near and Home
[Concluding Comment]
Siao-chen Hu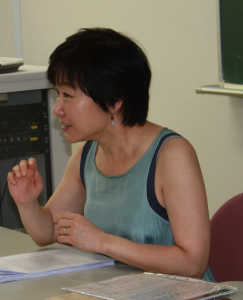 During the eight meetings the students and I tried to explore the ideas of space and place in narrative literature of China's late imperial period. We read texts of different genres, including short stories, vernacular fictions, and verse narratives, to address questions of cityscapes, borderlands, and human sentiments. Limited by time, we did not have the opportunity to go into extensive discussion, but the students often raised inspiring and challenging questions that could lead to further study, thanks to the fact that they came from different research fields—literature, history, religion and art. In addition to discussion, the students also gave presentations about their own research topics. The presentations demonstrated their understanding of actual, historical, and metaphorical space, and provided examples from contemporary Shanghai and Taipei, historical Chang-an and Nanjing, as well as the performing space for religious activities as represented on the Dunhuang scrolls. I was very impressed that, with the participation of the students, we crossed the boundaries of historical periods (from classical to modern) and academic disciplines.
[Photo]