Working Paper Series
post-link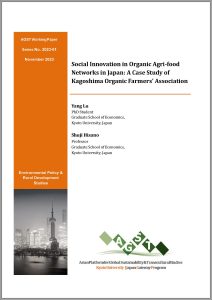 No.2023-01
November 2023
Social Innovation in Organic Agri-food Networks in Japan: A Case Study of Kagoshima Organic Farmers' Association
post-link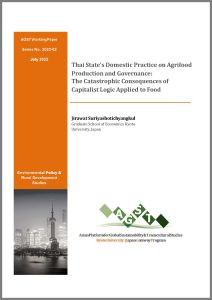 No.2022-02
July 2022
Thai State's Domestic Practice on Agrifood Production and Governance: The Catastrophic Consequences of Capitalist Logic ...
Scope
The Asian Platform for Global Sustainability & Transcultural Studies (AGST) was established with the goal of equipping globally minded researchers and students with the capacity to contribute to sustainable development in Asia and other parts of the world. It brings together scholars and students from the social sciences and humanities to further the "Japan Gateway: Kyoto University Top Global Program" (JGP) initiative that is led by three graduate schools: Economics (GSE), Letters (GSL) and Agriculture (GSA: Division of Natural Resource Economics).
In 2016, the AGST launched its Working Paper Series (AGST-WPS), which serves to showcase the research activities being undertaken by Kyoto University graduate students and scholars affiliated with one of the three aforementioned schools and/or its partner-universities.
The AGST-WPS articles shed light on economic, political, social and environmental issues that are related to one or more of the AGST modules, which are Environmental Policy & Rural Development Studies (AGST Module 1), Business History & Industry Policy Studies (AGST Module 2), Developing & Emerging Economies Studies (AGST Module 3), Business Management & Accounting Studies (AGST Module 5) and Asian & Transcultural Studies (AGST Module 6).* The series provides a conceptual and empirical foundation for the ongoing research projects at Kyoto University and our partner universities.
The AGST-WPS tracks the progress of our research and is meant to stimulate discussion and contribute to the advancement of a multidisciplinary perspective on Global Sustainability and Transcultural Studies.
The findings, interpretations, and conclusions expressed in the AGST-WPS are entirely those of the author(s) and do not necessarily represent the views of the AGST, Kyoto University and/or its partners.
Eligibility
The AGST-WPS welcomes submissions from faculty members, researchers, and students (doctoral and master's) from the GSE, GSL and GSA, as well as from partner universities as long as the topic of the manuscript meets the standards and expectations of the AGST-WPS.
Graduate students wishing to publish a single-authored paper or joint paper with other student(s) should be pre-screened by their university advisor(s) before submitting their manuscript to the editorial board.
Graduate students who are interested in publishing a single-authored paper or joint paper with other student(s) should obtain the approval of their academic advisor(s) before submitting their manuscript.
Since the AGST-WPS is part of an international collaboration initiative to further graduate-level research and education between Kyoto University and partner universities, prospective authors are strongly encouraged to develop joint international papers with students and faculty members from the partner- universities.
Preparing the paper
Papers should be written following the requirements of the AGST-WPS, which are stated in the Instructions for Authors.
Submitting a paper
Please download this application form and submit it to
iao.econ[at]mail2.adm.kyoto-u.ac.jp (please replace [at] with @)
Upon the reception of this application form, a member of the editorial staff will contact you.
Scientific Committee
Environmental Policy & Rural Development Studies (AGST Module 1):

Prof. Shuji Hisano, GSE, Kyoto University (AGST Director)
Prof. Motoki Akitsu, GSA, Kyoto University
Junior Assoc. Prof. Hart Feuer, GSA, Kyoto University
Assist. Prof. Mai Kobayashi, GSE, Kyoto University
AGST Project Prof. Joost Jongerden (Wageningen University)
AGST Project Prof. Maria Fonte (American University of Rome)
AGST Project Prof. Raymond A. Jussaume Jr. (Michigan State University)

Business History & Industry Policy Studies (AGST Module 2):

Prof. Takafumi Kurosawa, GSE, Kyoto University (AGST Vice Director)
Prof. Akira Tanaka, GSE, Kyoto University
Assoc. Prof. Steven Edward Ivings, GSE, Kyoto University
AGST Project Prof. Ben Wubs (Erasmus University Rotterdam)
AGST Project Prof. Daniel Wadhwani (University of Southern California)
AGST Project Prof. Duncan Ross (University of Glasgow)
AGST Project Prof. Paloma Fernàndez Pérez (University of Barcelona)

Developing & Emerging Economies Studies (AGST Module 3):

Prof. Go Yano, GSE, Kyoto University
Assist. Prof. Wanxue Lu, GSE, Kyoto University

Business Management & Accounting Studies (AGST Module 5):

Assoc. Prof. Tao Wang, GSE, Kyoto University
Assist. Prof. Sachiko Hata, GSE, Kyoto University

Asian & Transcultural Studies (AGST Module 6):

Prof. Mitsuyo Wada-Marciano, GSL, Kyoto University
Assoc. Prof. Wako Asato, GSL, Kyoto University
Junior Assoc. Prof. Bjorn-Ole Kamm, GSL, Kyoto University
Junior Assoc. Prof. Daisuke Kaida, GSL, Kyoto University
AGST Project Prof. Harald Fuess (Heidelberg University)
AGST Project Prof. Sandra Schaal (Strasbourg University)

Editorial Staff

Assist. Prof. Wanxue Lu, GSE, Kyoto University