The International Collaborative Courses are offered by guest scholars from another country.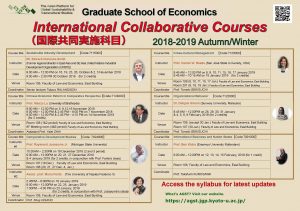 [Important]
The timeslot of the following courses has partly chenged.

[Comparative Development Studies]

(Prof. Raymond Jussaume)
19 Dec. 2018 10:30 – 14:30
(Assoc.prof. Maria Fonte)
18 Jan. 2019 14:45 – 18:00

→Poster already updated

[Course contents]
Access the KULASIS for details.
Click here to see the poster
[Course registrations]
Students who want to audit: contact the coordinator (GSE professors) and apply for participation.
GSE professors in charge of each courses are indicated in syllabus.
[Note]
For general questions, please contact International Affairs Office, GSE
We welcome your participation!