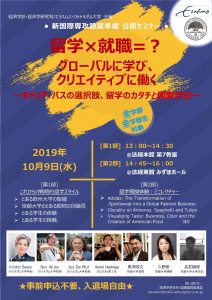 The Faculty of Economics will hold an open seminar on which entitled
" 経済学部公開セミナー「留学×就職=?」".
We will invite the president and professors of the Erasmus University Rotterdam to introduce their International programs and also we'd like to share a new project for master degree currently we're working on.
No reservation is required
Admission is free
We're looking forward to having you join us!
[Date & Venue]
Part 1: 13:00-14:30@ 法経第七教室, 1F, Faculty of Law / Economics Main Bldg.
「これからの戦略的留学スタイル」
Part 2: 14:45-16:00@ Mizuho hall, BF, Faculty of Law / Economics East Bldg.
「留学模擬体験:ミニレクチャー」
*Please be aware of the venue.
Click here to see the poster.