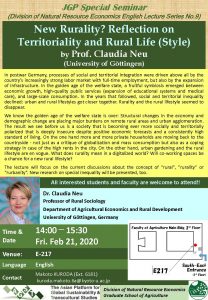 On the 21st of February (Friday) 2020, as part of the Japan Gateway: Kyoto University Top Global Program (JGP) , the Division of Natural Resource Economics in the GSA will be organising a special seminar entitled "New Rurality? Reflection on Territoriality and Rural Life (Style) " presented by Prof. Claudia Neu from the University of Göttingen. All interested students and faculty are welcome to attend.
[Time/Date]
14:00-15:30 February 21 (Fri), 2020
[Venue]
Room E217, 2nd Floor, Faculty/Graduate School of Agriculture Main Bldg.
[Further information]
http://www.reseco.kais.kyoto-u.ac.jp/en/news/20200131_1670/
[Contact]
Makoto Kuroda (Mr)
Division of Natural Resource Economics, GSA.
kuroda.makoto.6a[at]kyoto-u.ac.jp (please replace [at] with @)