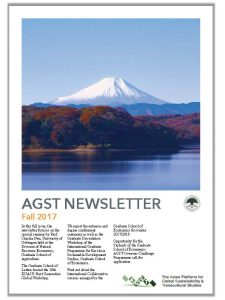 In this fall issue, the newsletter focuses on the special seminar by Prof. Claudia Neu, University of Göttingen held at the Division of Natural Resource Economics, Graduate School of Agriculture.
The Graduate School of Letters hosted the 10th KUASU Next Generation Global Workshop.
We report the entrance and degree conferment ceremony as well as the Graduate Dissertation Workshop of the International Graduate Programme for East Asia Sustainable Development Studies, Graduate School of Economics.
Find out about the International Collaborative courses arranged by the Graduate School of Economics for winter 2017/2018
Opportunity for the Students of the Graduate School of Economics: AGST Overseas Challenge Programme call for application.
AGST NEWSLETTER : Fall 2017