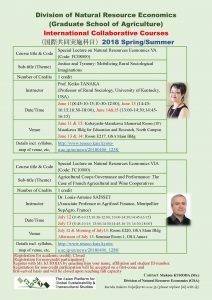 As part of a series of International Collaborative Courses offered by AGST, the Division of Natural Resource Economics (GSA) will hold two intensive lectures courses given by guest scholars invited from overseas universities.
[Course contents]
Click here to see the poster.
Visit the following pages for further information:
Special Lecture VA
Special Lecture VIA
[Registration for Academic Credit]
Not only students at GSA but also students at other graduate schools can register for the above two courses via KULASIS. However, the registration period may differ from one graduate school to another. Please contact the student affairs office of your affiliated graduate school for detailed information about the course registration period.
[Registration for non-credit participation]
Register with Mr. KURODA by emailing him your name, affiliation and student ID number.
Registration for non-credit participation will be accepted on a first-come and first-served basis and will be closed upon reaching full capacity.
[Contact]
Makoto KURODA (Mr)
Division of Natural Resource Economics, GSA.
kuroda.makoto.6a[at]kyoto-u.ac.jp (please replace [at] with @)