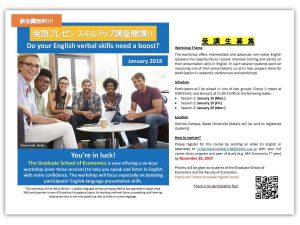 The Graduate School of Economics is now offering a six-hour workshop (over three sessions) to help you speak and listen in English with more confidence.
The workshop will focus especially on boosting participants' English-language presentation skills.
There is no participation fee!
[Workshop Theme]
This workshop offers intermediate and advanced non-native English speakers the opportunity to receive intensive training and advice on their presentation skills in English. In each session students work on improving one of their presentations so as to help prepare them for participation in academic conferences and workshops.
[Schedule]
Participants will be placed in one of two groups.
Group 1 meets at 9:00-10:55, and Group 2 at 11:05-13:00
on the following dates:
Session 1: January 15 (Mon.)
Session 2: January 19 (Fri.)
Session 3: January 29 (Mon.)
[Location]
Yoshida Campus, Kyoto University (details will be sent to registered students)
[Registration required]
Please send an email the following information to Assistant Prof. Steven Ivings, GSE.
(See the below email address)
・Name
・Study programme and year of study (e.g. MA Economics 1st year)
[Registration deadline]
by November 25, 2017.
[Details]
Click here to see the poster.