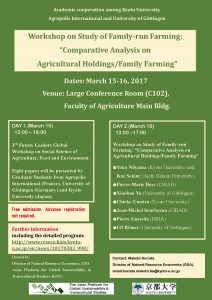 The Division of Natural Resource Economics of GSA and AGST Module 1 will be hosting a two-day international workshop on the study of family-run farming by receiving researchers and students from University of Göttingen (Germany) and Agropolis International (France).
[Speaker]
Please see the attached program for the names, positions and affiliations of the speakers at the workshop.

[Date & Time]
Day 1: March 15, 2017, 13:00-18:00
Day 2: March 16, 2017, 13:00-17:00

[Venue]
Large Conference Room (C102), Faculty of Agriculture Main Bldg, North Campus, Kyoto University
[Programme]
Click here to see the programme.
[URL]
http://www.reseco.kais.kyoto-u.ac.jp/en/news/20170303_998/
[Contact]
Mr. Makoto Kuroda
Division of Natural Resource Economics
Graduate School of Agriculture, Kyoto University,
E-mail: kuroda.makoto.6a [at] kyoto-u.ac.jp (please replace [at] with @)