Given the continued global spread of COVID-19, the Division of Natural Resource Economics in the GSA has decided to cancel Prof. Kumbhakar's and Dr. Malek's intensive lecture course ("Special Lecture on Natural Resources Economics VIA") scheduled for 4th to 8th July 2020.
**********************************************************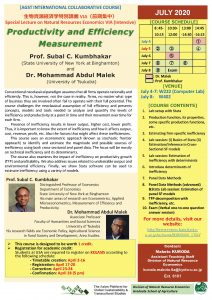 As part of a series of International Collaborative Courses offered by the AGST, the Division of Natural Resource Economics (GSA) will hold an intensive lecture course titled "Special Lecture on Natural Resources Economics VIA" (Code: FC10000), themed "Productivity and Efficiency Measurement," jointly taught by Prof. Subal C. Kumbhakar from the State University of New York at Binghamton and Dr. Mohammad Abdul Malek from the University of Tsukuba on 4-8 July 2020.

Prof. Kumbhakar, Distinguished Professor of Economics at SUNY Binghamton, is internationally recognized as a leading scholar in the field of stochastic frontier analysis. He is the co-author (with Knox Lovell) of the book Stochastic Frontier Analysis (2000), and A Practitioner's Guide to Stochastic Frontier Analysis using Stata (2015) coauthored with H-J Wang and A Horncastle, both published by Cambridge University Press.
[Course contents]
Click here to see the poster.

Visit the following link for further information including the syllabus:
http://www.reseco.kais.kyoto-u.ac.jp/en/news/20200330_1730/
[Registration for Academic Credit]
Not only students at GSA but also students at other graduate schools can register for this course on KULASIS. However, the registration period may differ from one graduate school to another. Please contact the student affairs office of your affiliated graduate school for further information about the course registration procedure.
[Contact]
Makoto KURODA (Mr)
Division of Natural Resource Economics, GSA.
kuroda.makoto.6a[at]kyoto-u.ac.jp (please replace [at] with @)