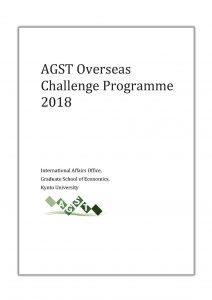 This document compiles the reports submitted by the students who participated in the AGST Overseas Challenge Programme in 2018.
This grant programme is an opportunity for the Graduate School of Economics' students to advance their research projects by performing a wide range of activities based on their particular research topic. Students conducting theoretical research benefited from academic guidance from scholars and other subject-matter experts, and students doing empirical research were able to collect data through interviews, observation and archival research.
Eight students received the grant, one from the regular programme and seven from the international programme. They stayed in five different countries, including China, Denmark, Indonesia, the Netherlands and the United Kingdom, and the length of their stay varied between 13 and 62 days.
Student feedback has been positive. To quote a student, "the programme provided valuable information for my study. Not only I had the opportunity to gather data from the direct observation of a process but also I was able to communicate with the officers. This unique experience provided me with a deeper understanding of the industry that I am studying."