Kyoto University graduate students present at an international workshop at Wageningen University, the Netherlands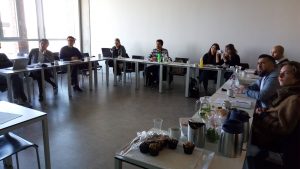 On May 13, 2019, Kyoto University (KU) graduate students participated in the fifth International Graduate Workshop on Food and Development Studies that took place at Wageningen University (WUR). This was an opportunity for KU and WUR graduate students to present their research and get an international perspective on their work through discussion sessions that followed each presentation.
Nine students (five from KU and four from WUR) presented on topics that touched on various themes, such as rural development, agri-food governance, food security, and food sovereignty. Compared to the 2018 workshop, the number of presentations slightly decreased; however, this allowed for more in-depth discussions and exchange, which was not possible with last year's tighter schedule.
"It was a good opportunity to present my thesis research as practice but also to train myself in better clarifying and identifying the main points that I should be focusing on when writing up my thesis," commented one KU student.
Considering this and other positive feedback received, perhaps keeping presentation numbers lower in order to have in-depth discussions is something to continue for future workshops, especially considering that the topics are diverse and that each student has a different point in his/her research project. In other words, the audience needs more time to get acquainted with the student's research in order to give more appropriate and relevant feedback. One way to further deepen the discussion would be to ask students to submit an extended abstract or a working paper prior to the workshop so that workshop participants can be more prepared to engage.
One thing that was introduced last year and continued to be done this year was asking the presenters to explain to the audience what they would like feedback on. This seemed to work well as the students could get specific advice during and after the workshop. For example, students participating in the Top Global Course presented their research progress in front of their international thesis co-supervisors who gave them thorough feedback in a one-on-one session later on. A student noted that his supervisor took great interest in his research, gave helpful and valuable advice and suggested some key readings.
Overall, it seems that students found the workshop a worthwhile experience that allowed them to identify how they can improve their research while building their presentation and other communication skills.
Conference and field trips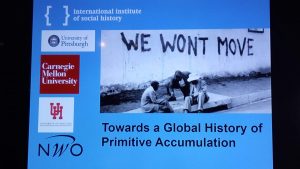 Other than the workshop, KU students could also learn more about international and local issues related to rural and agrarian development. For example, before the workshop in Wageningen, students visited the Transnational Institute (TNI), an international research and advocacy institute based in Amsterdam, where they could ask questions about scholar-activism.
Students also had the chance to attend the "Towards a Global History of Primitive Accumulation" conference that was held at the International Institute of Social History. For most of the students, it was the first time to attend an international conference. They could interact with internationally recognized scholars from all over the world. They could observe how arguments were presented and debates carried out. A student commented that she was surprised by the professionalism and mutual-respect shown by participants despite having different perspectives and opinions.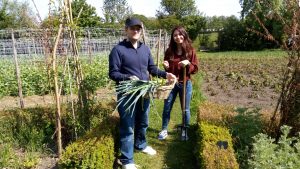 Lastly, students could visit a community-supported agriculture farm to get a first-hand experience of the philosophy, the practice, the potentials of organic farming but also the issues and challenges faced by organic farmers in the Netherlands. One student commented that after meeting farmers face-to-face, she felt more motivated about her own research.
While it was an intense nine-day trip, it seems that the workshop and field trips were fruitful based on student feedback that indicated how they found it an eye-opening and skill-building experience. These new and fresh insights will hopefully infuse their work and lead to interesting and creative research results.
By Tsilavo Ralandison, AGST Project-specific Senior Lecturer