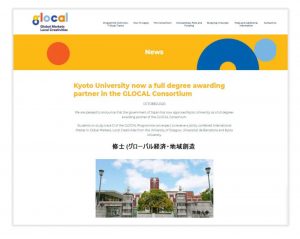 With the authorization from the Japanese Ministry of Education, Culture, Sports, Science and Technology (MEXT) on October 22, 2020, Kyoto University's Graduate School of Economics, the School of Social and Political Sciences at the University of Glasgow and the Faculty of Economics and Business at the University of Barcelona have confirmed the establishment of a new joint master's degree program, "International Joint Master Degree Program in Global Markets, Local Creativities" in September 2021.
This is a two-year master's program. Over the course of two years, students study at the University of Glasgow (UK) during the first semester (six months), the University of Barcelona (Spain) during the second semester (six months), and Kyoto University (Japan) during the third and fourth semesters (one year), and are conferred a joint degree from the three universities.
This program is one of the courses (called "study track") that consist of the integrated international program "Erasmus Mundus International Master Degree Program in Global Markets, Local Creativities (GLOCAL)" comprised by a consortium of seven universities.
We aim to provide students with interdisciplinary and international academic training and practical skill through the complementary and interdisciplinary expertise, resources and networks of seven leading universities in seven innovative cities by utilizing intellectual, human, and institutional resources of the GLOCAL program.
Please visit the program website for more information.