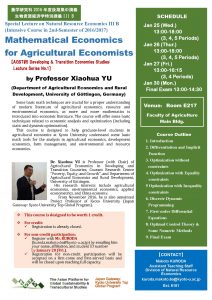 AGST Module 5 (Developing & Transition Economies Studies) will hold an intensive lecture course titled "Mathematical Economics for Agricultural Economists (Special Lecture on Natural Resource Economics IIIB)" from 25 to 30 January, 2017. Some basic math techniques are crucial for a proper understanding of modern literature of agricultural economics, resource and environmental economics, as more and more mathematics is introduced into economic literature. The course will offer some basic techniques related to economic analysis and optimization (including static and dynamic optimization). This course is designed to help graduate-level students in agricultural economics at Kyoto University understand some basic math tools for the analysis in agricultural economics, development economics, farm management, and environmental and resource economics.
[Instructor]
Prof. Xiaohua Yu
Department of Agricultural Economics and Rural Development, University of Göttingen / Project Professor, Kyoto University
[Schedule]
January 25 (Wednesday): 13:00-18:00
January 26 (Thursday): 13:00-18:00
January 27 (Friday): 13:00-16:15
January 30 (Monday): Final Exam (13:00-14:30)
[Venue]
Room E217, 2nd Floor, Faculty of Agriculture Main Bldg., North Campus
[Registration]
– For credit (*this course is designed to be worth 1 credit.):
 *Registration is already closed.
– For non-credit participation:
 *Register with
Mr. KURODA
(kuroda.makoto.6a[at]kyoto-u.ac.jp)
  by emailing him your name, affiliation, and student ID number by
January 20 (Fri.)
.
 *Registration for non-credit participation will be accepted on a first-come and first-served   basis and will be closed upon reaching full capacity.
[Details]
Click here to see
syllabus
.
[Contact]
Makoto Kuroda, Assistant Teaching Staff, Division of Natural Resource Economics, Graduate School of Agriculture kuroda.makoto.6a[at]kyoto-u.ac.jp (please replace [at] with @)