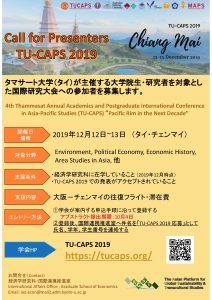 The Graduate School of Economics (GSE) is looking for participants of international conference TU-CUPS 2019 "Pacific Rim in the Next Decade" in the international conference held in Chiang Mai, Thailand.
【Date】
12th – 13th December, 2019
【How to entry】
① Register for the conference.
(Abstract submission by 4th October)
② Contact with the International Affairs Office and inform your name, grade and student ID, which is entitled "Registration of TU-CAPS 2019".
For more details, please see following website.
https://tucaps.org/
【Report】updated on 15th January 2020
The report form the student who has attended the TU-CAPS2019" Pacific Rim in the Next Decade".
http://www.econ.kyoto-u.ac.jp/en/news/26900/
【Contact】
International Affairs Office
Graduate School of Economics, Kyoto University
iao.econ [at] mail2.adm.kyoto-u.ac.jp
(please replace [at] with @)