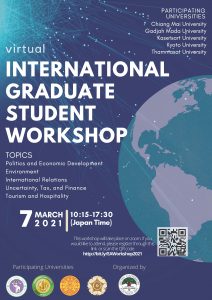 The Graduate School of Economics hosts the "International Graduate Student Workshop"
[Date]
March 7, 2021
10:15-17:30
[Venue]
Online (zoom)
[Schedule]
Click here to see the programme
[Event report]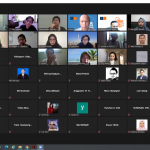 On March 7, 2021, Kyoto University hosted an online one-day workshop for graduate students to present their research projects, learn from their peers' research activities, and network. Participants were from Chiang Mai University (Faculty of Economics), Kasetsart University (Faculty of Economics), Thammasat University (Faculty of Political Science, and Thammasat Institute of Area Studies), Gadjah Mada University (Faculty of Economics and Business), and Kyoto University (Graduate School of Economics). Presentations were divided into eight sessions and covered five broad themes: (1) politics and economic development, (2) environment, (3) international relations, (4) uncertainty, tax, and finance, and (5) tourism and hospitality. A total of 33 students presented their current research projects and proposals for their master's thesis or doctoral dissertations. Students from Kyoto University's International Graduate Programme for East Asia Sustainable Economic Development Studies undertook several organizational activities such as overseeing the secretariat, preparing the proceedings, and creating and distributing the event poster.
Several faculty members from each participating university also attended the workshop and actively participated in the discussions. Prof. Shuji Hisano (Director of the International Graduate Programme for East Asia Sustainable Economic Development Studies and the Asian Platform for Global Sustainability and Transcultural Studies at Kyoto University) kicked-off the workshop by welcoming the participants. He was pleased to announce how Kyoto University and its partner universities in Indonesia and Thailand could continue to collaborate despite restrictions to in-person meetings. The workshop was a great opportunity to "keep ties."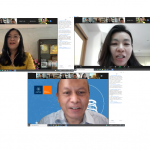 In their closing remarks, Prof. Vijitsri Sanguanwongse (Dean of the Faculty of Economics, Kasetsart University), Prof. Juthathip Jongwanich (Faculty of Economics, Thammasat University), and Prof. Mamduh M. Hanafi (Director of the Doctoral Programme in Management, Faculty of Economics and Business, Universitas Gadjah Mada) all reiterated their wish for continued collaboration between universities. They thanked Kyoto University for the initiative because the workshop gave students an experience presenting in an international setting and allowed them to build their networks. Finally, all speakers wished to meet each other in person again soon.
At the end of the workshop, participants filled out a short evaluation form. The following describes some of the key highlights from the post-workshop evaluation. Presenters noted how they received constructive feedback and practical advice from their peers and attending faculty members about how to improve their work. Others said that they got new research ideas and learned about new research methods. Participants also praised the effective time management and welcoming atmosphere of the workshop. They noted that the relaxed atmosphere facilitated open discussions and frank exchanges.
"The workshop was a good place for graduate students to present their work freely and practicing discussions with peers," commented one of the presenters.
Overall, it seemed that most enjoyed exchanging with fellow students from East Asian universities and working on topics related to East Asia and that many were pleased that they could participate even if it was online. Despite the diversity of topics and approaches, they share the same regional concerns that made the exchanges more fruitful.
Even the Kyoto University students who were involved in the workshop organization found that their participation was rewarding.
"I found it very meaningful to join the organization team of this workshop. This experience will be useful for my career," wrote a student-member of the organizing committee.
Considering these comments, the workshop seems to have met its objectives. As for ways for improvement, participants noted that the discussion time could be extended. Others wished that future workshops be organized on a weekday rather than on Sunday. These comments will undoubtedly be taken into consideration in the future.
By Tsilavo Ralandison, AGST Project-specific Senior Lecturer