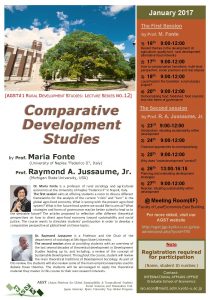 AGST Module 1 (Environmental policy & Rural development studies) will hold a series of special lectures titled "Comparative Development Studies" from January 16 to 27, 2017.

In this course consists of two different, but mutually intersecting sessions.
The first session aims at offering students a room to discuss different frameworks for the analysis of the current "crisis" and "turn" in the global agro-food economy. What is wrong with the present agro-food system? What is the future food system we would like to aim at? What strategies and forms of governance may be better suited to lead us to the desirable future? The articles proposed to reflexion offer different theoretical perspectives on how to direct agro-food economy toward sustainability and social justice. The course wants to stimulate students' participation in order to develop a comparative perspective at global level on these topics.
The second session aims at providing students with an overview of the last several decades of theoretical development in Development Studies leading up to, and including, a review of the concept of Sustainable Development. Throughout the course, student will review the main theoretical traditions of Development Sociology. As part of this review, the students will also review some of the main empirical examples used to debate these theories. The students will be encouraged to apply the theoretical material they master in this course to their own research interests.

[Instructors]
Prof. Maria Fonte
University of Naples "Federico II", Italy
Prof. Raymond A. Jussaume, Jr.
Michigan State University, USA

[Schedule]
The First Session
by by Prof. M. Fonte
1) 16th 9:00-12:00
2) 17th 9:00-12:00
3) 18th 9:00-12:00
4) 20th 9:00-12:00
The Second session
by Prof. R. A. Jussaume, Jr.
1) 23rd 9:00-12:00
2) 24th 9:00-12:00
3) 25th 9:00-12:00
4) 26th 13:00-16:15
5) 27th 9:00-12:00

[Venue]
Meeting Room (8F), Faculty of Law and Faculty of Economics East Bldg.
[Lecture Title]
Comparative Development Studies
– For credit : Registration is already closed.
– For non-credit participation:
 *Register to International Affairs Office, GSE
(Name, affiliation, student ID number)

[Details]
Click here to see syllabus.

[Contact]
International Affairs Office, Graduate School of Economics
iao.econ [at] mail2.adm.kyoto-u.ac.jp (please replace [at] with @)