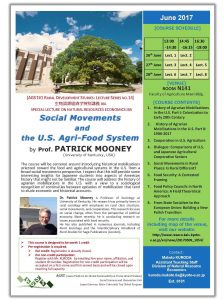 AGST Module 1 (Environmental Policy & Rural Development Studies) will hold an intensive lecture course by Prof. Patrick Mooney (University of Kentucky), entitled "Social Movements and the U.S. Agri-Food System" from 26th to 28th June, 2017. The course will be centered around introducing historical mobilizations oriented toward the food and agricultural systems in the U.S. from a broad social movements perspective. We expect that this will provide some interesting insights for Japanese students into aspects of American history that might not be familiar. The course will address the history of agrarian mobilizations in the U.S. with a view to a sociological recognition of continuities between episodes of mobilization that end to elude economic and historical accounts.
[Instructor]
Prof. Patrick H. Mooney
Department of Sociology, University of Kentucky, USA
[Schedule]
June 26 (Mon.): 13:00-14:30 (Lect. 1), 14:45-16:15 (Lect. 2)
June 27 (Tue.): 13:00-14:30 (Lect. 3), 14:45-16:15 (Lect. 4), 16:30-18:00 (Lect. 5)
June 28 (Wed.): 13:00-14:30 (Lect. 6), 14:45-16:15 (Lect. 7), 16:30-18:00 (Lect. 8)
[Venue]
Room N141, 1st Floor, Faulty of Agriculture Main Bldg., North Campus.
Click here for a map of the room.
[Registration]
This course is designed to be worth 1 credit.
Pre-registration is required.
-For credit:
 *Registration is already closed.
-For non-credit participation:
 *Register with Mr. KURODA (kuroda.makoto.6a[at]kyoto-u.ac.jp) by emailing him your name, affiliation, and student ID number.
 *Registration for non-credit participation will be accepted on a first-come and first-served basis and will be closed upon reaching full capacity.
[Details]
Click here to see syllabus.
[Related URL]
http://www.reseco.kais.kyoto-u.ac.jp/en/news/20170509_1054/
[Contact]
Makoto Kuroda, Assistant Teaching Staff, Division of Natural Resource Economics, Graduate School of Agriculture kuroda.makoto.6a[at]kyoto-u.ac.jp (please replace [at] with @)