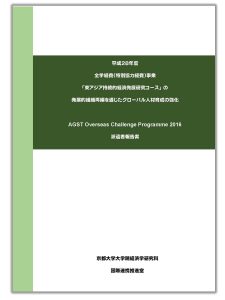 This document compiles the reports submitted by the students who participated in the AGST Overseas Challenge Programme in 2016..
This programme is an opportunity for graduate students to advance their research projects by performing a wide range of activities based on their particular field and research method over a period of approximately one month in a different country. Once the students return back to Kyoto, they sort out and analyse all the information gathered during their stay and are then expected to use this information to present their results at international conferences and to submit a paper to academic journals. Participating in this programme can help students prepare for a career in academia or various professions in an international setting.
In 2016, nine students participated in the programme, stayed in seven different countries, and the length of their stay varied between 11 and 52 days. Activities undertaken included receiving academic guidance for doctoral dissertations from the partner universities' faculty; collecting research materials from specialized institutions and libraries; interviewing officials from government agencies, businesses and NGOs; and participating in field research.
AGST Overseas Challenge Programme: Report from 2016 Participants