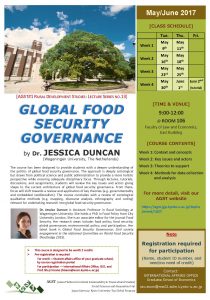 AGST Module 1 (Environmental policy & Rural development studies) will hold a series of special lectures titled "Global Food Security Governance" from May 9 to June 2, 2017.
The course has been designed to provide students with a deeper understanding of the politics of global food security governance. The approach is deeply sociological but draws from political science and public administration to provide a more holistic perspective while ensuring adequate disciplinary focus.
Through lectures, tutorials, discussions, and assignments, students will review the key issues and actors giving shape to the current architecture of global food security governance. From there, focus will shift towards a review and application of key theories (e.g. governmentality and embedded neoliberalism). The course concludes with a review of sociological qualitative methods (e.g. mapping, discourse analysis, ethnography and coding) relevant for undertaking research into global food security governance.
[Instructor]
Dr. JESSICA DUNCAN
Wageningen University, The Netherlands
[Schedule]
9:00 – 12:00
(1) May 9 (Tuesday)
(2) May 11 (Thursday)
(3) May 16 (Tuesday)
(4) May 18 (Thursday)
(5) May 23 (Tuesday)
(6) May 25 (Thursday)
(7) May 30 (Tuesday)
(8) June 1 (Thursday)
(9) June 2 (Friday)
[Venue]
Room 108, Faculty of Law and Faculty of Economics East Bldg.
[Registration]
*This course is designed to be worth 2 credits
**Pre-registration is required
For credit — Student affairs office of your graduate school, by course registration period
For participation — International Affairs Office, GSE, and Prof. Shuji Hisano (hisano@econ.kyoto-u.ac.jp)
[Details]
Click here to see
syllabus
.
[Contact]
International Affairs Office, Graduate School of Economics iao.econ [at] mail2.adm.kyoto-u.ac.jp (please replace [at] with @)